PURE
Discover an online dice game in its purest form!
GAME RULES
Place the column of 3 random dice as illustrated above in one of the four boxes. You earn points by placing 3 identical dice in a horizontal or diagonal row. A minimum of 100 points is needed to win.
Combine multiple lines and boxes to earn even more points.
Try to score points in 3 boxes to receive a score multiplier of X1.5 or in all 4 boxes to receive a score multiplier of X2.
If you manage to align 9 identical dice in a single box, you gain an additional 200 points.
PURE Wheels BONUS 1/2
Place three PURE WHEEL BONUS symbols on a winning line to trigger the Pure Wheel Bonus.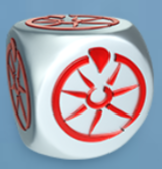 The "Pure Wheel" Bonus starts with 5 Spins and 100 points. Each wheel spin can yield:
More points.

3 additional spins.

1 spin on the Jackpot wheel.

1 spin on the MYSTERY wheel. (From 1 to 5)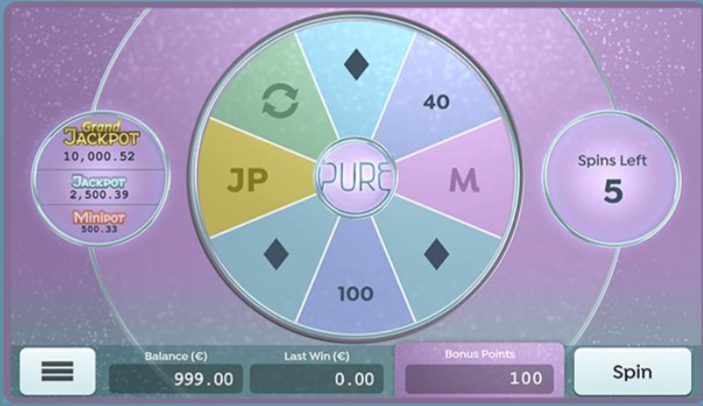 The BONUS game ends when you run out of spins or when you have reached a maximum of 20 spins.
All your bonus points are then added to the main game result.
PURE Wheels BONUS 2/2
The MYSTERY WHEEL awards 1-5 mystery games for the selected bet level and ends the Pure Wheel bonus.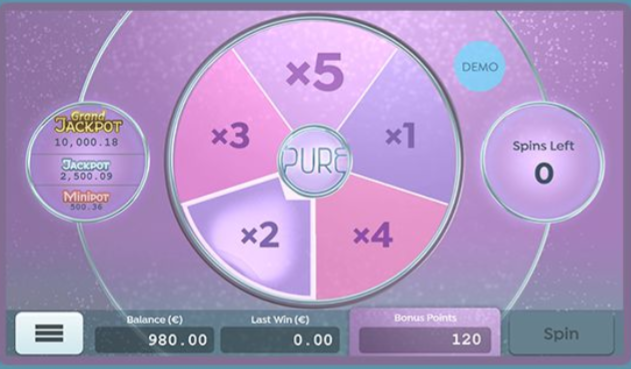 During MYSTERY ROUNDS, any winnings grant you the maximum win amount for that bet level.
The JACKPOT WHEEL always provides a chance to win one of the three jackpots.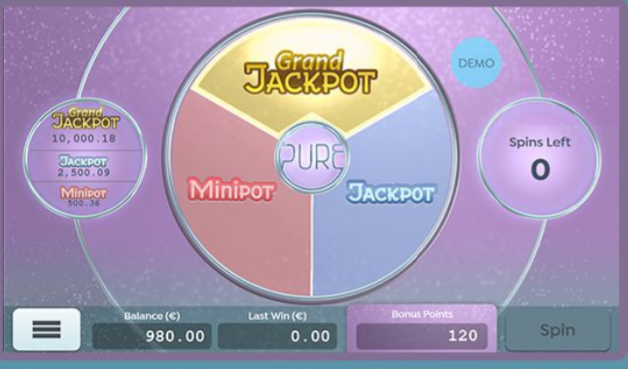 Spin and win the MINIPOT, JACKPOT, or GRAND JACKPOT.
Bets contribute to the growth of the jackpots until someone wins them.
Higher bets have a better chance of winning!