Gold Of The Nile
Play as the archaeologist Katie Combs and explore forgotten dungeons along the Nile in this exciting dice game.
Earn points by placing 3 identical dice in a horizontal or diagonal line. Rare dice yield higher rewards.
A minimum of 100 points is needed to win.
TREASURE HUNT BONUS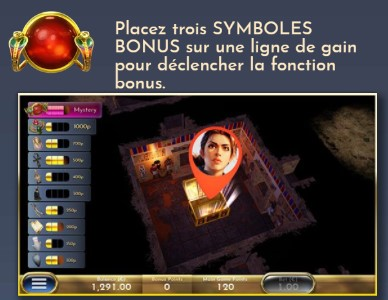 Search for treasures by exploring various dungeon levels. Move in directions by clicking on the arrow buttons.
Win prizes from the prize table by collecting the required quantity of treasures.
After winning a prize, Anubis, the master of this dungeon, weighs your heart.
Will he allow you to continue collecting treasures, or will you be banned from these halls - for now?
Possible prizes include:
Points: 100, 150, 200, 250, 300, 400, 500, 700, 1000
Mystery Games: 3, 5, 7, 10, 25
NOTE: You can only win the bonus game once from a single square in the main game.
If you find a gold symbol, the prize for that category will be DOUBLED!
MYSTERY GAMES
Mystery games are the most exciting feature of the main game: during mystery games, all prizes from the main game prize table are worth the top prize, which is 100 times the bet. As long as you surpass the 100-point threshold, you win the top prize!
A minimum of 100 points is required to win. A cash prize does not trigger the 100 times the bet win. Each mystery game costs the same as the bet that was used to win it.
In this game, mystery games are won from the bonus feature. After filling the mystery prize category, Anubis shows you 5 jars.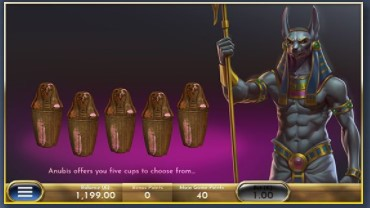 They contain 3, 5, 7, 10, and 25 mystery games, respectively. It's up to you to choose the right one!