Ghosts and Graves
Play now at our online casino game Ghosts and Graves
Ghosts and Graves
Dices
Supplied by Air Dice
GHOSTS AND GRAVES
Among the dice casino games, Ghosts and Graves is undoubtedly the most chilling!
Confront the mystery of the Ghosts and Graves cemetery to unearth your fortune within one of the numerous hidden coffins.
Secure additional winnings through the Blood Bonus!
Game Rules
A random column of 3 dice is presented to you. You must place these dice in one of the 4 boxes. Your objective is to get 3 identical dice in a horizontal or diagonal row.
Strive to accumulate as many points as possible. You need a minimum of 100 points to win.
Also, attempt to achieve wins in 3 boxes in a single round to receive a score multiplier of 1.5x, or in all 4 boxes to receive a score multiplier of 2x.
If you manage to land 9 identical dice in a single box, you'll receive an additional 200 points.
If you manage to get 3 BONUS dice in a row, you unlock the COFFIN BONUS.

This bonus allows you to earn more points or win Mystery games!
During Mystery rounds, any win gives you the maximum amount for that bet level!
BONUS GAMES
In the Coffin Bonus, your aim is to accumulate as many points as possible or win Mystery games.
The points gained during the bonus are added to the points won during the main game, and any multiplier is also applied to the bonus points.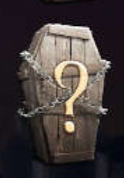 The Coffin Bonus presents you with 24 closed coffins. Within each coffin lies a points value (ranging from 100 to 1000) or Mystery rounds (ranging from 2 to 5).
Each potential winning value is hidden in exactly 3 coffins placed at random locations.
To play the bonus, click on the coffins one by one to open them. The bonus game concludes when you have opened 3 coffins with the same value.
The BLOOD BONUS

The BLOOD BONUS awards you additional points when triggered. Blood accumulates with each game played, and the bonus activates once the tube is filled with blood.