Curvy Corsairs Slicin' & Dicin'
Play now at our online casino game Curvy Corsairs Slicin' & Dicin'
Curvy Corsairs Slicin' & Dicin'
Dices, We suggest, Jackpot
Supplied by Air Dice
CURVY CORSAIRS : SLICIN' & DICIN'
VERSAILLES CASINO is proud to present Curvy Corsairs: Slicin' & Dicin', our new AIR DICE dice game.
This extravagant audiovisual experience features a multi-level BONUS wheel with progressive jackpots!
Rosie and Bonnie from our Dice Slot Curvy Corsairs are back for plundering, and this time they're on the hunt for a real ghost ship... And a storm is approaching! Collect as much loot as possible!
GAME RULES
The game starts with the automatic roll of three dice, revealing either a specific number, a special Chinese symbol, or a Bonus symbol.
You can then click on an empty SET to place the dice on the game board.
Next, three new DICE will be generated to be placed in one of the empty SETS or chosen to create winning combinations (three identical dice on a horizontal or diagonal winning line).
Each of the four different SETS is scored separately, and the goal is to reach a minimum of 100 points or more to win prizes.
NINE ALIKE - FULL (9 ALIKE)
If you manage to place 9 identical symbols in the same grid, you will receive a 200-point bonus that will be added to your score for that grid.
2X MULTIPLIER
If you manage to make combinations in 4 sets, you will receive a 2X multiplier. The score will be multiplied by 2.
1.5X MULTIPLIER
If you manage to make combinations in 3 sets, you will receive a 1.5X multiplier. The score will be multiplied by 1.5.
BONUS GAME
Three BONUS symbols on a line will trigger the multi-level wheel.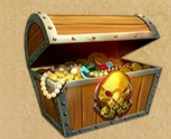 You start the BONUS game with 5 spins, but you can earn more as long as you have remaining spins.
However, landing on any of the three "JACKPOT" segments ends the BONUS feature, regardless of the number of remaining spins, and you receive all the WINS you have collected.
Segment Types:
POINT prizes range from 20 to 100 points.

The ARROW segment moves the pointer to an inner or outer wheel.

The +2 SPIN segment awards two additional spins.

The 2x segment doubles the current points and MYSTERY plays but has no effect on future wins.

The X segment does not offer any win for that spin.

MYSTERY sectors award 2 to 10 MYSTERY plays.

The MINIPOT, JACKPOT, and GRAND JACKPOT sectors award the corresponding value of the displayed Jackpot and end the BONUS GAME.
Bets contribute to the growth of the jackpots until someone wins them, and higher bets have a higher chance of winning. At the end of the BONUS feature, the earned points are added to the main game result and count towards the total win of the game round.
The BONUS feature can only be triggered once per box in the main game.