COSMIGON
GAME RULES
Explore all corners of this cosmic hive!
Firstly, choose your bet using the Stake button. Press START to initiate the casino dice game. Position the column of 3 random dice in one of the four boxes.
You earn points by placing 3 identical dice in a horizontal or diagonal line. A minimum of 100 points is required to win. Combine multiple lines and boxes to accumulate even more points.
Strive to score points in 3 boxes to receive a score multiplier of X1.5 or in all 4 boxes to receive a score multiplier of X2.
If you manage to align 9 identical dice in a single box, you gain an additional 200 points.
COSMIC ADVANCE BONUS 1/2
Position three BONUS SYMBOLS on a winning line to trigger the bonus feature.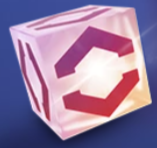 Aim for the tiles on the wheel to spin it or gather high dice points to try and win the top prizes at the end of the track!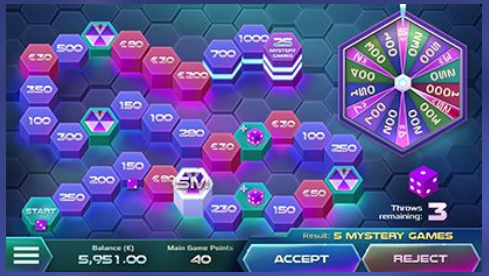 In this Bonus feature, you play a board game and roll dice to progress. Your die is on the right side, and you start with 5 rolls. Click on the die to roll it. The tiles on the board contain points, cash prizes, Mystery rounds, and rerolls. After each die roll, you can choose to accept the result or reroll. You can only accept a single result.
COSMIC ADVANCE BONUS 2/2
Most tiles on the board contain a prize, either cash or points. The last won tile is 25 Mystery rounds.
There are two tiles that grant a reroll. There are also 4 special WHEEL tiles, allowing you to spin the wheel on the right side of the board. The wheel provides points or Mystery rounds.

Possible gains from the wheel segments are as follows:
Points: 100, 150, 200, 200, 230, 250, 300, 300, 400, 500, 700, 1000
Mystery Rounds: 2, 3, 4, 5, 7, 25
MYSTERY
During MYSTERY rounds, all prizes on the main game's prize table become the maximum win, 100 times your bet! You must reach the threshold of 100 points to win.