Grimalkin
Grimalkin Manor is full of mysteries! An old black cat can take on many forms - some of them mean that the treasure of this online dice game is yours!
Choose your bet and press START. A column of three random game symbols appears. Place them in one of the four boxes. You earn points by placing three identical symbols on a horizontal or diagonal line. Rare symbols yield better rewards.
A minimum of 100 points is required to win. Combine multiple lines and boxes to earn even more points.
GRIMALKIN MINI-MYSTERY BONUS
Skulls, skulls everywhere... but fear not, they mean the prize is near!
Fill the Minimystery meter to trigger the Minimystery bonus. The meter fills up after each round when Scatter symbols appear on the screen.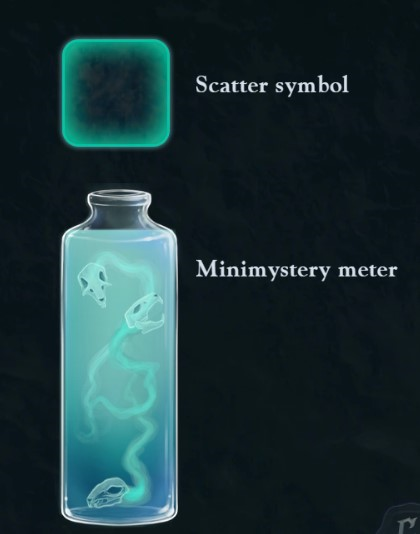 In the Minimystery Bonus game, five cat skulls are presented to you. Each skull contains 2, 3, 5, 10, or 50 Minimysteries. Start by shuffling the skulls. The skulls close and mix. Then, choose your lucky skull and reveal your Minimystery prize! Good luck!
DISGUISED WHEEL BONUS
A spellbook - where the world of Mystery resides!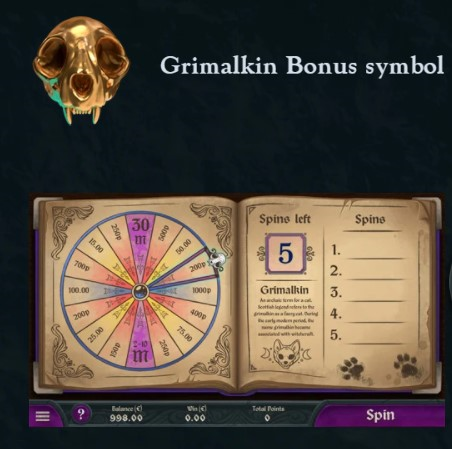 In this bonus feature, you spin the bonus wheel up to five times. The wheel sectors include points, money, and mystery games. As long as you have remaining spin attempts, you can discard a result that doesn't suit you, except for mystery game wins. Once your spins have been used, the last result is automatically accepted.
NOTE: You can only win the bonus game once from a single box.
Mystery sectors offer 2, 3, 4, 6, 10, or 30 mystery games. During mystery games, all prizes on the main game prize table are worth 100 times your bet. Mystery games do not affect cash prizes.