Parasol Beach
Welcome to Parasol Beach, part of the casino dice games family!
The party never stops here, and you're invited! Play the bonus game to try and win MYSTERY Games or one of the three Jackpots!
GAME RULES
A set of 3 random dice is displayed. You need to place these dice in one of the 4 boxes. Your goal is to get 3 identical dice in a horizontal or diagonal row.
You need to have at least 100 points to win.
Try to get points in 3 boxes to receive a score multiplier of X1.5, or in 4 boxes to receive a score multiplier of X2.
If you get 9 identical dice in the same box, you get an additional 200 points.
If you get 3 Bonus dice in a row, you access the Bonus Game.
The Bonus Game presents you with 24 parasols.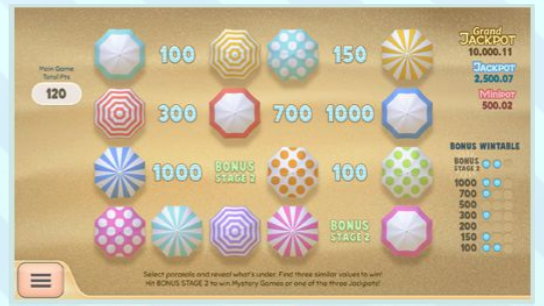 Under each of them hides a prize in points, or a ticket to BONUS STAGE 2,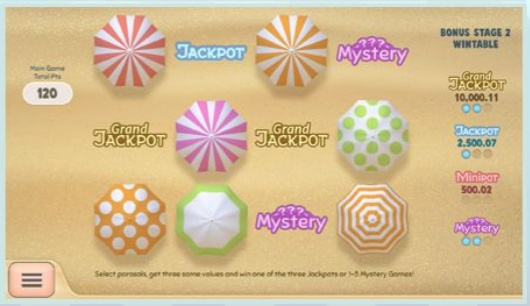 where the BIG WINS are hiding! Each possible prize is hidden under exactly three parasols at random locations.
To play the bonus, click on the parasols one by one to reveal the prize underneath. The bonus game ends when you have uncovered three parasols with the same prize. If you win points, they are added to the main game's points.
If you reach Stage 2, a new set of 12 parasols is presented to you. The hidden prizes there are the GRAND JACKPOT, JACKPOT, MINIPOT, or from 1 to 6 Mystery Games.
During Mystery Games, any winnings give you the maximum amount for that bet level!
Radio
Click on the radio to access the channel selector and choose your background music!

You have a choice of three stations: Bossa Supernova (bossa nova), Chilled Waves (chill-out), and Electronic Sunset (electronic music). Each channel offers a variety of songs. If a track from the channel doesn't suit your taste, you can use the skip button to move to the next song.