Starliner II
Play now at our online casino game Starliner II
Starliner II
Slots, Hall Games, We suggest
Supplied by GreenTube
This online dice slot, an adaptation of the popular land-based casino game Starliner, is now making its debut on VersaillesCasino.be!
Roll the virtual dice and collect the stars to try your luck with generous payouts and advantageous Feature Games. Your destiny is written in the stars when you manage to align 3 'Star' symbols on the reels.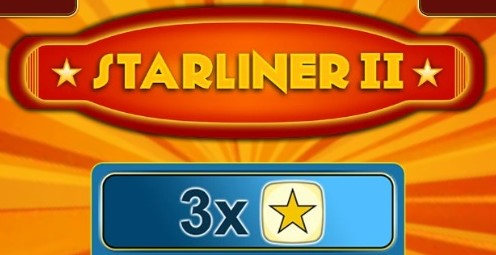 This combination unlocks 15 Feature Games, with 27 active paylines.
The goal of the game is simple: align 3 identical symbols along one of the 5 active paylines. Winning combinations are established from left to right, following the active lines of the base game. To secure a win, the symbols must follow each other without any other symbol in between.
Regardless of the player's wager, the cost of each Feature Game is equivalent to the minimum bet available to play. For example, if a player bets 4.00 €, the Feature Games will cost the minimum allowable bet. Consequently, if the lowest possible bet is 0.10 €, each Feature Game will cost the player 0.10 € to play.
Super Player Mode
In this mode, the Feature Games cost 1.00 € (which is the lowest bet step in this mode) per spin, regardless of the player's bet.
Trigger
3 'Star' symbols trigger 15 Feature Games.
KEY FEATURES
3 'Star' symbols trigger 15 Feature Games.
Feature Games can be retriggered during their course.
All 27 lines remain active during the Feature Games